LBDMN: Information for Families and Caregivers
The Louisiana Birth Defects Monitoring Network (LBDMN) was formed to track birth defects in Louisiana children. The goals of the program are:
To find birth defects in children under age 3
To give families of children with birth defects information about the support services available to them
To teach others about birth defects
To help prevent birth defects in the future
What is a birth defect?
Birth defects are more common than you may think. Every year in the US, about 1 in every 33 babies is born with a birth defect. A birth defect is a problem that happens when the baby is still growing inside its mother's body. There are many reasons why this can happen. It's important to talk to your doctor about what to expect if your baby is diagnosed with a birth defect.
Some birth defects are very minor or harmless. Other birth defects can be serious and can require long-term medical care. Birth defects can affect the way the body looks, works, or sometimes both. Children with birth defects may have special health care needs beyond those of other children. They may require special treatment such as surgery or therapy. Sometimes their conditions can last their whole lives. Fortunately, many children with birth defects go on to live quality lives.
Applying for Services
To get help from CSHS, a parent can apply at a local parish health unit or one of the nine CSHS offices. A referral from a doctor, nurse practitioner, or audiologist is needed. For detailed instructions and forms, please visit our Application Instructions for Direct Sub-Specialty Medical Care page.
Clinic Locations
Below is an interactive map to help you locate our clinics. Click on your parish of residence to open a new webpage that lists the contact information for the nearest CSHS regional clinic.
Please note: Direct sub-specialty medical care is not available in either Jefferson, Orleans, Plaquemines, or St. Bernard parish (region 1). For families living in one of these parishes, CSHS has established the Family Resource Center (FRC) at Children's Hospital New Orleans. The FRC offers free one-on-one support to families and youth with special health care needs who have questions about resources available in their community. Click on the region 1 parishes below to be linked to the FRC webpage.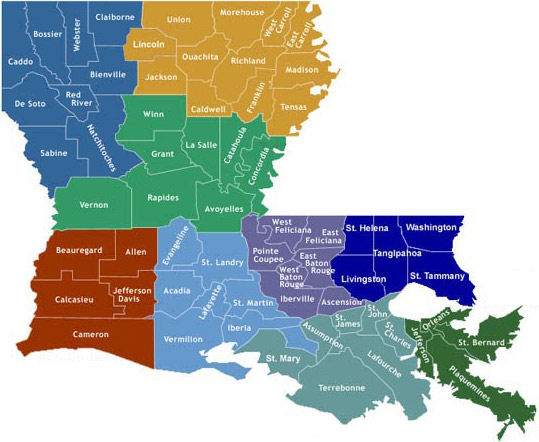 Recommended Resources
We've created an online Family Resource Hub to help you find information about programs and services for children and youth with special health care needs (CYSHCN). It describes the services we offer, provides information on eligibility criteria and key contacts, and can connect you to other helpful websites. It also has tips and tools related to your family member's care. We hope that it will serve as a starting place for you to receive the services your family needs for daily life.
We also offer the following additional health education items from our partner organizations: