CSHS Home > For Families & Caregivers
For Families & Caregivers
Children's Special Healthcare Services - Clinical Services (CSHS-Clinical Services) is a program for children in Louisiana with special health care needs. We offer the following services:
Medical Care & Assistance:
Medical specialty care
Referrals for medical testing, procedures, equipment, and supplies
Medications and special diets
Behavioral health and nutrition services
Support Services
Referrals to home health services and therapies (occupational/physical/speech)
Referrals to early childhood development agencies
Family Support
Eligibility
In order to receive services from one of our CSHS clinics, a child must meet certain eligibility requirements. You can view the requirements and learn more about the clinics by clicking here (CSHS-Clinical Services for Families) or by reviewing the information below.
Legally live in Louisiana
Meet the Medicaid or CSHS income rules
Be under 21 years of age
Have a health condition that can be treated in a CSHS clinic. Some of the most commonly seen conditions include:

Audiology: hearing loss or deafness
Cardiology: ventral septal defects, atrial septal defects, defects of the heart valves
Cleft lip and palate
Neurological disorders and conditions: seizure disorders, cerebral palsy, stroke, brain injury, hydrocephalus, malformations of the brain, spina bifida
Orthopedic:

cerebral palsy, scoliosis, club foot, spinal cord injuries, spina bifida

Otology: hearing loss, birth defects of the ear, frequent ear infections
Plastic surgery: scars or contractures that limit function or movement
Contact your local CSHS clinic using the map below to find out more about which health conditions they are able to treat.
Apply for Services
The first step to receiving services from Children's Special Healthcare Services - Clinical Services is to complete this application. Section 5 of the application requires information from your child's doctor about their diagnosis. You will need to include ONE of the following with your application:
1. A note from your child's medical provider (doctor, nurse practitioner, audiologist, etc.) with your child's diagnosis on it
OR
2. A copy of your child's medical records that contain information about your child's diagnosis.
OR
3. Your child's medical provider (doctor, nurse practitioner, audiologist, etc.) can fill out and sign Section 5 (Diagnosis Confirmation) on the application.
If you need assistance filling out the application you can contact your local parish health unit or your local CSHS office (see map below).
Once you complete this form, mail it to your closest CSHS office. Use the map below to find out which office you should mail your application to.
Clinic Locations
Below is an interactive map to help you locate our clinics. Click on the parish you live in to find contact information for your nearest CSHS regional clinic. If you need help getting to and from appointments, follow the steps in this Help with Transportation to Appointments document.
Please note: CSHS-Clinical Services are not provided in Region 1 (Jefferson, Orleans, Plaquemines, or St. Bernard parishes) and Region 7 (Bienville, Bossier, Caddo, Claiborne, De Soto, Natchitoches, Red River, Sabine, and Webster parishes).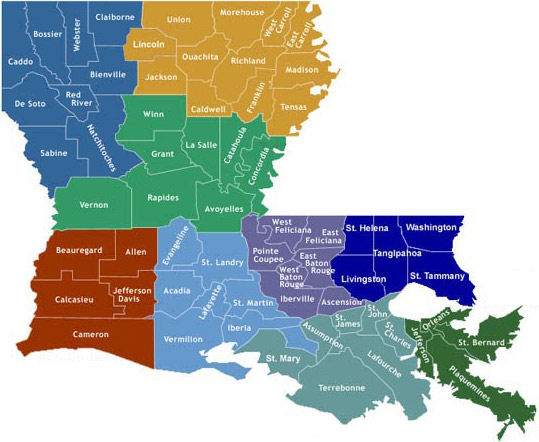 Additional Resources for Children and Youth with Special Health Care Needs
A medical home is not a building or a place. It is when doctor's offices work together to make sure their patient is seeing all the right people and getting the services they need. Having coordinated care is especially important for children and youth with special health care needs who see many different doctors.
Our Family Resource Center staff and Community Resource Specialists help families navigate resources and provide them with emotional support if they need it.
Find out what services are available in your area! Each of the 9 local resource guides contain brief descriptions of the services offered by local organizations serving children and youth with special healthcare needs, including contact information and eligibility requirements.