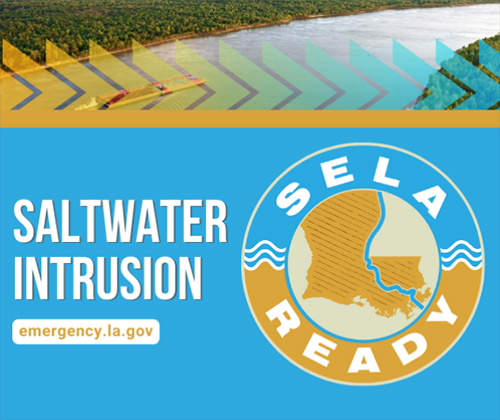 Due to extended drought across the entire Mississippi River basin, the water levels of the lower Mississippi River are extremely low, allowing salt water from the Gulf of Mexico to come upstream. This phenomenon, known as saltwater intrusion, can affect local water supplies because many public drinking water systems in south Louisiana rely on fresh water from the Mississippi River.
The Louisiana Department of Health (LDH), along with regional, state and federal partners, is actively monitoring the situation and conducting water quality testing and analysis to provide regular updates to the general public and healthcare providers about impacts to water systems and necessary precautions.
We encourage residents of the Southeast Louisiana parishes affected by the saltwater intrusion to stay informed by signing up for their local text alert systems. Visit emergency.la.gov/saltwater to get the latest updates on the saltwater intrusion in Southeast Louisiana.
Helpful Information
Storm Guidance During COVID-19
Behavioral Health Immediate Resources - With the recent events of hurricane season and COVID-19, you may be feeling overwhelmed with feelings like fear and anxiety. We are here to help you. These resources provide trained and compassionate individuals to support you during this time. These individuals will provide information and help to link you to mental health and substance use services.