The Louisiana Department of Health (DHH) confirmed two cases of the Enterovirus D68 in the Capital Area today. Enterovirus D68 (EV-D68) is one of many enteroviruses that are very common in the United States and typically flare up in the fall months. Since children are the most susceptible to contracting EV-D68, LDH is encouraging parents to take simple steps to help prevent the spread of EV-D68, such as encouraging children to wash their hands, cover their mouths when coughing or sneezing, and to avoid sharing food or drink with people who are sick.
EV-D68 presents with cold-like symptoms, such as fever, coughing, body aches and a runny nose. It may also cause breathing problems or wheezing. Children with asthma or other respiratory illness are the most susceptible to being infected with EV-D68. When parents notice high fever, dehydration or trouble breathing they should immediately take their child in to see their primary care provider or to see a provider at an urgent care clinic.
"The best step we can all take now is to help prevent spread of the virus by using the same tools we do for the flu - wash your hands frequently, cover your mouth when you sneeze or cough, and don't share food or drinks with people who are sick," said LDH Assistant State Health Officer Dr. Takeisha Davis. "Close contact with our loved ones may also encourage the spread of the virus, so avoid hugging or kissing someone who is sick and make sure to clean surfaces such as doorknobs and handles that may have been touched by someone who is sick."
More information about EV-D68 is available on the U.S. Centers for Disease Control website here: http://www.cdc.gov/non-polio-enterovirus/about/EV-D68.html.
Schools, child care centers and other organizations that serve children are encouraged to print and post this helpful infographic about preventing the spread of EV-D68.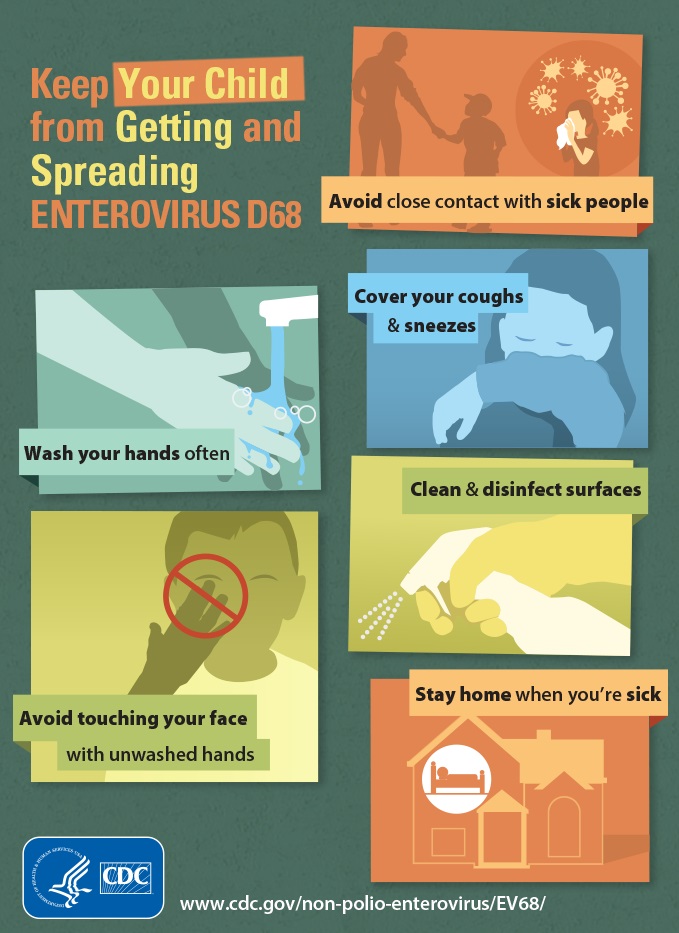 The Louisiana Department of Health strives to protect and promote health statewide and to ensure access to medical, preventive and rehabilitative services for all state citizens. To learn more about LDH, visit www.dhh.louisiana.gov. For up-to-date health information, news and emergency updates, follow DHH's Twitter account and Facebook.
###