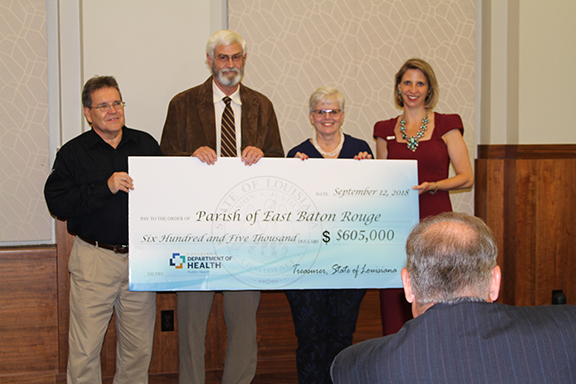 The Louisiana Department of Health has secured grant funding from the Centers for Disease Control and Prevention for East Baton Rouge Parish Mosquito and Rodent Control District to purchase a tire shredder. The $605,000 grant covers the cost of the shredder, installation and training.

This is the first grant for a tire shredder in the continental United States given by the CDC.

Tires make an ideal breeding site for mosquitoes as they easily collect water and organic debris. East Baton Rouge's Mosquito and Rodent Control District has mapped 109 piles of used tires throughout the parish ranging from 10 to approximately 8,000 tires. These piles of tires require regular treatment to control the mosquitoes breeding in them.

Kyle Moppert, public health entomologist with the Louisiana Department of Health, said the Asian Tiger mosquito breeds in tires and are capable of transmitting West Nile, Zika and dengue.

"Once water accumulates in tires, it is extremely hard to remove. The water in the tires warm up, creating an ideal habitat for mosquito larvae," said Moppert. "In essence, in a short amount of time, a single tire becomes a mosquito condominium, serving as a living and breeding ground for these disease–carrying pests. In terms of disease prevention, destroying a single tire as a breeding site is a cost-effective way to reduce a community's risk of getting sick from a mosquito bite."

The East Baton Rouge Mosquito and Rodent Control District will work with other mosquito abatement districts around the state to eliminate tires in those parishes.