Health / Fish Consumption Advisories Program
SEET issues health/fish consumption advisories after risk analyses that allow the greatest use of the state's natural resources while still protecting the public's health. State environmental regulatory agencies collaborating with SEET in this program include:
Current Advisories: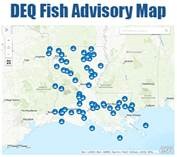 Rescission Notice: Swimming/Sediment Contact Advisory for Bayou Bonfouca (2020)
Recent sampling in Bayou Bonfouca in St. Tammany Parish has prompted the Department of Health (LDH) and Department of Environmental Quality (DEQ) to rescind the current advisory.
Rescission Notice: Fish Consumption Advisory for Sibley Lake (2019)
Recent sampling in Sibley Lake near the city of Natchitoches, Louisiana has prompted the Department of Health (LDH), Department of Environmental Quality (DEQ), and Department of Wildlife & Fisheries (DWF) to rescind the current fish consumption advisory.
Calcasieu Estuary Advisories (Updated 2016)
Devil's Swamp Area Advisory (Updated 2015)
FDA and EPA Issue Fish Consumption Advice (October 2021)
For more information, click here.
Fish Advisory Protocol
The Louisiana Departments of Health (LDH), Environmental Quality (LDEQ), Wildlife and Fisheries (LDWF), and Agriculture and Forestry (LDAF) issue fish consumption advisories when contaminant levels are of potential concern. The "Protocol for Issuing Public Health Advisories for Chemical Contaminants in Recreationally Caught Fish and Shellfish"
is the basis on which these fish consumption limit recommendations are made. This protocol is designed to provide standardized guidelines on issues such as investigation of contaminants in fish tissue, determination of the need for an advisory, and the ultimate interagency consultation.
Population-Based Blood Mercury Services
On an as-needed basis, SEET conducts blood mercury screens for targeted groups including commercial fishers and their families, women of childbearing age, and people who regularly eat fish from local water bodies. A detailed questionnaire about fish consumption habits is administered to each participant. Participants are provided with their blood mercury results and information on how to eat fish safely.