Louisiana Crisis Response System and 988 Lifeline

24/7 crisis resources
available for immediate assistance.

Medicaid Members Contact your MCO Behavioral Health Care Crisis Line

Aetna Better Health
1-833-491-1094

AmeriHealth Caritas of Louisiana
1-844-211-0971

Healthy Blue
1-844-812-2280

Humana Healthy Horizons of Louisiana

1-833-204-5504

Louisiana Healthcare Connections
1-844-677-7553

United Healthcare
1-866-232-1626
The Louisiana Department of Health (LDH)/Office of Behavioral Health (OBH) has begun implementing the Medicaid service delivery system related to crisis services.
LDH/OBH has joined the rest of the nation to transition the Suicide Prevention Lifeline 10-digit number to an easier to remember 3-digit dialing code, 988, for calls and text. 988 chats are available through the Lifeline website www.suicidepreventionlifeline.org/chat.
Click here to learn more about 988.
After working with partners in Medicaid and national experts, OBH finalized the service design associated with a crisis system of care that is modern, innovative and coordinated. The services that are being implemented include:
Mobile Crisis Response (MCR) is an initial community-based, mobile crisis response intended to provide relief, resolution and intervention to individuals where they are located through crisis supports and services during the first phase of a crisis in the community.
Behavioral Health Crisis Centers (BHCC) are facility based services that operates twenty-four (24) hours a day, seven (7) days a week, as a walk-in center providing short-term behavioral health crisis intervention.
Community Brief Crisis Support (CBCS) is an ongoing crisis intervention response rendered for up to fifteen (15) days and designed to provide relief, resolution and intervention through maintaining the member at home / in the community, de-escalating behavioral health needs, referring for treatment needs, and coordinating with local providers.
Crisis Stabilization (CS) are short-term bed-based crisis treatment and support services for members who have received a lower level of crisis services and are at risk of hospitalization or institutionalization.
Services are available for Medicaid recipients who are:
21 years and older
Associated with one of the 6 Managed Care Organizations in Louisiana (Aetna Better Health, AmeriHealth Caritas of Louisiana, Healthy Blue, Humana Healthy Horizons of Louisiana, Louisiana Healthcare Connections, and United Healthcare)
Experiencing emotional distress, and would benefit from crisis response from trained practitioners to get the supports needed to resolve the crisis and stay in the community
Not already on a legal commitment and are able to voluntarily participate in services
Select an area of the map for Crisis Resources in your area.
Modeling a Crisis System of Care
Early in the development of this new system, the Louisiana Department of Health sought input from stakeholders and interested parties to assist in the development of a vision for a modern and comprehensive crisis system of care through a Request for Information.Based on findings from the Request for Information, LDH developed a crisis framework: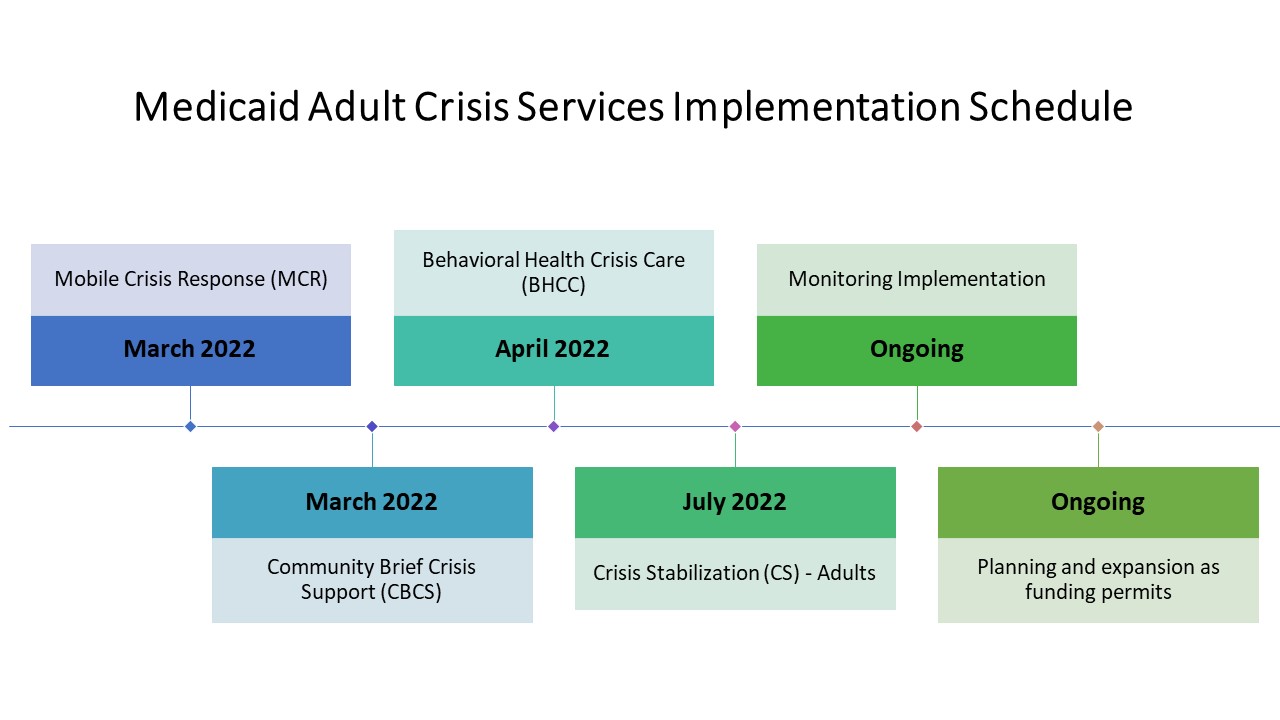 As part of the process to implement new Medicaid covered crisis response services in Louisiana, LDH is pleased to announce that the following providers have been selected to receive intensive crisis response training, to be facilitated by the Center for Evidence to Practice. Following training the providers will start providing these services by the indicated go live dates.
Provider

Regions
Served

Mobile
Crisis
Response

Community Brief Crisis Support

Behavioral Health Crisis Care Center

Crisis Stabilization

Merakey Pennsylvania

1

July 2022

No Provider Selected

Resources for Human Development, Inc.

1

April 2022

April 2022

Recovery Innovations DBA RI International

2

April 2022

April 2022

April 2022

August 2022

Start Corporation

3

April 2022

April 2022

April 2022

SFY24

Ness Healthcare

4

January 2023

January 2023

January 2023

No Provider Selected

No Provider Selected

5

No Provider Selected

Humanity 2020 Group

6

SFY23

SFY23

No Provider Selected

No Provider Selected

7

No Provider Selected

Humanity 2020 Group

8

SFY23

SFY23

No Provider Selected

Ness Healthcare

9

July 2022

June 2022

June 2022

No Provider Selected

Jefferson Parish Human Services Authority

10

April 2022

April 2022

SYFY24

Resources for Human Development, Inc.

10

June 2022

Additional Resources
Upcoming Presentation Schedule
Statewide Implementation Plan Updates *dates subject to change*
Presentations